The Thermo Fisher Scientific (formerly Life Technologies) Supply Center Program allows you to purchase items from a number of freezers located on campus.
To make purchases through the Thermo Fisher Program, you will need to create a Thermo Fisher amount-based purchase order (PO) in BearBuy. The amount-based PO is like a pre-paid credit card, which allows you to make purchases from Thermo Fisher Scientific supply centers. If the total ongoing purchases do not exceed the amount you listed you as the price of your amount-based PO, you can freely purchase products from the Supply Center. The amount-based PO will release funds to the vendor each time you make a purchase from the supply center.
Supply Center Frequently Asked Questions
Setup Instructions
---
Obtaining a Thermo Fisher Supply Center Badge
---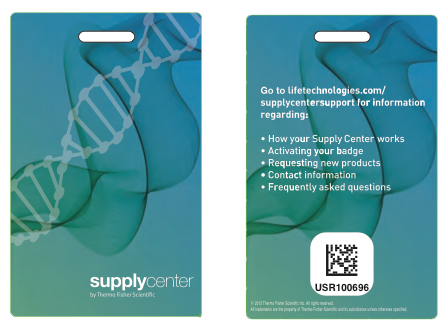 The quickest way to access your Supply Center is by selecting the Request Access button on the display. Complete the information requested and select submit. You will receive an email message from Customer Service with your username and password within 48 hours.
If you do not have an access badge, remove one from inside the Supply Center. If badges are not available inside the unit, contact your Thermo Fisher Scientific Account Representative and he/she will provide one to you. To contact your Account Representative directly from the Supply Center, use the Contact Us button under Help.
Setting Up a Purchase Order for Payment Within BearBuy
---
Go to BearBuy (via MyAccess)
Scroll to the bottom of BearBuy, find Frequently Used Forms and select Amount-Based PO (purchase order)
Select Life Technologies Corporation
Product Description: Type in Supply Center Purchases
Price: We recommend entering $5,000, but feel free to input whatever you believe to be the appropriate amount for one year's worth of spend
Select commodity code 
Select No for HIPAA field
Scroll up to the top of the form and select Add and go to Cart, Select Go. This will add the form to your shopping cart.
3. In your cart, click Proceed to Checkout to enter funding and department information
4. Enter the funding information
5. If you are authorized to place orders in your department, place your order. If not, assign the cart to the person (Requester) in your department who can.
6. After your order is approved, a PO number is generated. Take note of the PO number (i.e. B001234567) as you will need to enter this number on your account at thermofisher.com.
Activating your badge
---
Instructions for activating your access badge can also be found on the reverse side of your badge.
Sign in to your account on thermofisher.com.
Hover over Account in the top navigation and click on Supply Center Settings.
In the Supply Center settings section, click Edit (pencil icon in top right corner) and select the Access card tab in the pop-up screen.
Purchasing Products
---
Swipe your Access Badge to sign in or sign in without a badge by selecting Access without a Badge and entering your username and password.
Confirm payment and cost center information; select Access
Note: You can make modifications to your payment/cost center values under Your Account at thermofisher.com
The Supply Center door will unlock; open the door and remove the product(s) you need.
Close the Supply Center door, select Done on the screen. An email order confirmation with details of your order will be sent to you.
Note: If you've selected a product in error, please contact your Thermo Fisher Scientific Supply Center Representative.
Refilling Your Amount-Based PO
---
An amount-based PO is just like a pre-paid credit card, so you will need to refill it if you exceed or are about to exceed the amount you initially set. This can be done by going into BearBuy and submitting a Change Order Request form.
After one year of use we recommend creating a new amount-based PO. When you do this, please be sure to update this new PO number on your account on thermofisher.com so the charges can be taken from the new amount-based PO.
Need Help?
---