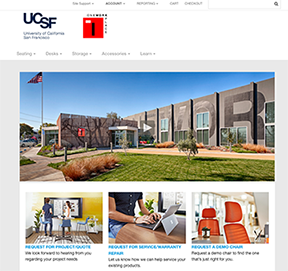 Supply Chain Management (SCM) and One Workplace/Steelcase recently signed a new comprehensive, five-year contract for furniture products and services. Highlights of the furniture agreement include:
Improved pricing
Dedicated UCSF primary point of contact and project managers
Furniture design, planning and specifications
Timely ordering, delivery and installation
Strategic workplace consulting tools to engage users and align furniture to their needs
Ergonomic fittings and demonstrations to ensure proper usage
Maintenance and warranty assistance services
Removal, reuse of existing furniture and disposal that minimizes impact to the environment
Avoids harmful exposure to U.S. Environmental Protection Agency's (EPA) chemicals of concern
There is a tiered discount structure (see table below) based on project spend for Steelcase products, which has an extensive offering of products to meet most of the University's design and functional needs. In addition, OWP has an extended group of 300+ suppliers and will work with UCSF to identify and access the right blend of product and service solutions to achieve project and budget goals.
The new contract also seeks to provide high-quality indoor air through following the International Living Future Institute's Red List by avoiding harmful chemicals of concern identified by the EPA such as formaldehyde, ozone-depleting chemicals, flame retardants, volatile organic compounds (VOCs), vinyl chloride, heavy metals, and persistent bioaccumulative toxins in furnishings. OWP has experts available to ensure product selections meet this criteria.
This contract, which took effect in August 2017, is already being used for some large projects on campus. In the coming months, SCM will share more details about how you can buy the products, make the most of the services, success stories and lessons learned. On August 2, 2018, SCM and OWP launched a new integrated platform for ordering furniture and services that is accessible to UCSF campus users via BearBuy.  
For questions about the contract, please contact SCM Purchasing Supervisor Christina Morache.
Additional Services Offered 
---
| Tiered Discounts | Project Spend |
| --- | --- |
| Tier 1 | $1 to $350,000 |
| Tier 2 | $351,000 to $1 million |
| Tier 3 | $1 million to $3 million |
| Tier 4 | $3 million to $6 million |
| Tier 5 | $6 million and up and identified projects |