Incoming Mail
---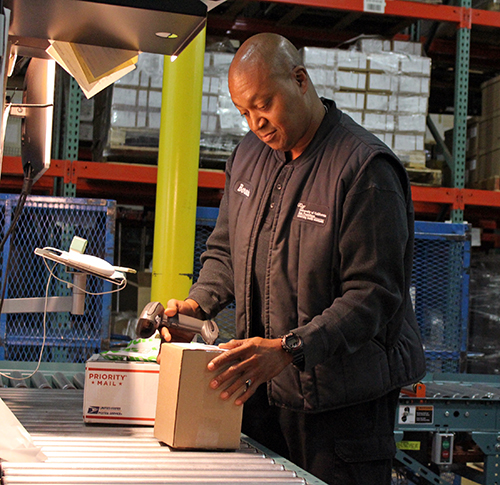 Mail Services processes all UCSF mail received from the United States Postal Service (USPS) as well as Inter-Campus Mail – as much as 8,000 pieces of mail daily.
Incoming mail is processed daily in the following order:
Campus Mail
First Class Mail
Periodical Rates (second class)
Standard A&B (third class)
Accountable mail (registered, certified, insured, and express mail) received from USPS in the morning is delivered that afternoon to the customer. A signature is required at the point of delivery.
Make sure that you have a current internal box number/mail code listed with Mail Services.
If your department needs a box number/mail code, then email the following information to [email protected]:
Department Name
Address (including room number)
COA Chartstring/Cost Center
Contact Person
Start Date
If your individual UCSF campus address or mail box number changes, there are two ways to make an update. An employee can contact their HR generalist or use the Campus Directory  "Edit My Record" function. The employee self-serve edit function is fast and easy and allows you to make same day changes to your Campus Address including, Mail Box, Building, Floor & Room and Phone information.
Having a current box number listed in the Campus Directory will ensure that your internal and external mail makes it to your location. And best of all, making a box update today will automatically redirect your mail tomorrow. 
Reminder: UCSF campus mail is delivered to your campus mailbox delivery point – not to an individual's office. UCSF Medical Center personnel should contact their human resources department.
Make sure to inform your correspondents to place your department's box number/mail code, next to your department name.
Attribute only one box number/mail code to your identity.
UCSF ZIP CODE INSTRUCTIONS
All UCSF Locations in San Francisco must use the zip code 94143. UCSF locations outside San Francisco must use the appropriate city and zip code. Be sure to utilize the following format directions from the USPS:
UCSF
John Smith
Department Name, Box XXXX
550 16th St., Floor 4
San Francisco, CA 94143 (or appropriate city and zip code if outside San Francisco)
There should not be any mention of UCSF's internal box number/mail code in the last two lines of the address format. Do not use our internal box number/mail code as +4. The zip code should read "94143" only. For more detailed information please see Unified UCSF Zip Code Frequently Asked Questions.
Outgoing Mail
---
Outgoing mail includes the processing of various types of USPS mail. This includes Metered Postage, First Class, Express Mail, Priority, Registered, Certified and Insured mail, UPS and FedEx. All of these are processed and delivered to the appropriate carriers daily.
Franking Numbers: A franking number is a four-digit number used to identify a department's budget authorization account for recharge of postage or other mail services.  For example, ordering stamps, use of commercial carrier, etc. It should be used on all outgoing mail.
The franking number should appear in the upper left hand corner of every envelope or package mailed out by a department.
If your department needs a franking number, then email the following information to [email protected]:
Department Name
COA Chartstring/Cost Center
Contact Person
Start Date
Preparing Outgoing Mail for Pickup: Mail should be separated and bundled according to the type of mail (i.e., First Class, Book Rate, International Mail, Air or Surface). Make sure your franking number appears on the upper left corner of every envelope or we cannot accept it.
All accountable and overnight mail (Certified, Insured, Registered, Express Mail, UPS and FedEx) must be separated from the regular mail and accompanied by a Mail Services Receipt Form.  After filling out the form, please attach a copy of this form to your package.
Business Reply Mail Service
---
Business Reply Mail (BRM) allows departments to provide envelopes and cards that their correspondents can return without paying postage. The University has a central BRM permit that Mail Services manages through USPS.
In coordination with Mail Services, Documents & Media can produce envelopes and cards for you using the University's BRM permit and ensuring compliance with USPS requirements.
Inter-Campus Mail
---
Use inter-campus brown envelopes for department to department mailing needs. Addressing campus mail on white envelopes is not recommended because it may be mistaken for U.S. mail and be sent to the Post Office.
Inter-campus envelopes are used repeatedly for internal mailings, so please make sure that all previous markings have been crossed out. Please print legibly, with the following information:
Recipient's or department name
Receiving department's internal box number/mail code
Stamp Sales
---
Stamps for departmental use can be obtained by:
Mail Services stocks only the most commonly requested stamps in the most commonly requested denominations. If you need a special stamp, please allow additional time for us to get it for you. Stamps (if in stock) will be sent to you in the next available delivery cycle.
Please scan and email your stamp requisition form to [email protected].
Looking for a Package?
All UCSF Campus and Medical Center MyAccess users have access to our UCSF Logistics package-tracking tool for USPS parcels.
Here's how:
Navigate to MyAccess
Enter your MyAccess User ID and password
Select "UCSF Logistics Utility"
Select "Package Tracking"
A small sub-menu will appear
Select the appropriate method (e.g. - select BearBuy to search via a BearBuy Order Number)
An input field will appear – enter the appropriate information
Select "View Report"
A successful delivery will display the signature of who received your package
If your package hasn't arrived at our facility – you will receive the message "Parcel has not been received at Oyster Point for Last-Mile Delivery"
For more information, check out the Mail Services Frequently Asked Questions.