UCSF has partnered with Vantage Point Logistics (VPL) and Federal Express to use BearBuy purchase orders (PO) for FedEx outbound shipping (shipping from UCSF to other parties).
Instructions on setting up VPL FedEx purchase orders in BearBuy along with Frequently Asked Questions are available in the FedEx Outbound How to Buy Guide.
Using POs for FedEx shipments brings several benefits to departments:
Purchase orders bring increased visibility by allowing requisition approvals of FedEx shipping and the ability to see invoices on a BearBuy PO.
Once a PO is generated, departments will no longer receive and process paper invoices. All FedEx shipment invoices will be sent electronically through BearBuy and associated with POs.
VPL will offer shipping activity reports that will help the campus reconcile shipping activity and identify where departments can save on shipping costs.
VPL FedEx Outbound Shipments Report
A report of all UCSF shipments made using the Outbound Freight Program can be accessed by following the directions below:
Log into UCSF MyAccess.
Find and click on the "BearBuy" link.
Once logged into BearBuy, on the left side of the Shopping Homepage, click on the "BearBuy Reports" link under the "Reports and Other Resources" heading.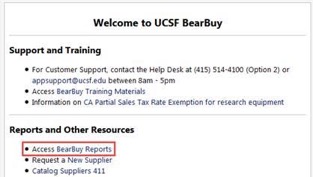 A new window opens, displaying several folders. Open the "VPL – Outbound Freight Report" folder.
Double click on the file in the folder to open or save a copy of the report.
This report is updated weekly. 
As a reminder, to improve the data quality on these reports, always include the VPL Purchase Order number on the shipping label. Complete purchase order data will make the reconciliation process quicker and easier.