Gift cards should be purchased through the National Gift Card (NGC) Punch-out site in BearBuy. 
NGC sells plastic and electronic gift cards from a wide variety of retailers and restaurants including Amazon.com, Target, Starbucks and more. NGC also sells several types of prepaid cards.
Important Information About Purchasing Gift Cards
---
Gift card purchases must be compliant with University of California policy and procedures. Prior to purchasing gift cards it is important to note the following:
Familiarize yourself with G-41 Employee Non-Cash Awards and Other Gifts and G-42 Gifts Presented to Non-Employees on Behalf of the University polices for more specific guidance on gift card award, gift limits, and restrictions.
Per policy, purchase of gift cards should be used for purchases of goods ONLY, and NOT used for any services offered by a company.
For tax reporting purposes, gift cards given to individuals (non-employee) totaling $600 or more in a calendar year should be reported to Supplier Registration via an email to the 

[email protected]

 no later than December 31.  Please be sure to include the following information:

Full legal name (first and last)
Mailing address
Social Security number
Payment amount
Subject line: SECURE
Ordering
---
Please note the following important information about ordering from NGC:
Make your gift card selections carefully because gift cards cannot be returned.
Order processing may take up to two to three days. Shipping may also take a few days depending on the type of shipping method you choose for your order. Please anticipate your gift card needs and place your orders in advance. 
NGC gift card orders need to be placed through the NGC Punch-out catalog. Non-catalog orders for gift cards cannot be placed with NGC. If there is a gift card that you would like to purchase, but is not offered in the NGC Punch-out, please email

[email protected]

.
Gift cards are sold at face value with no additional fees except for prepaid cards (i.e. Visa, American Express, etc.). Please note the fee for these cards.
All gift cards are active once they are shipped.
Shipping
---
You can choose from the following shipping options for plastic gift cards during checkout:
FedEx Ground (3-5 business days)
FedEx 2 Day
FedEx Next Day
There is a shipping cost to mail physical gift cards ranging from approximately $6-$11 depending on the selected shipping option. The shipping cost will not be charged by National Gift Card directly, but instead will be charged through the Inbound Freight Program.
There is no shipping cost for Electronic (eCode) gift cards.
Electronic (eCode) Gift Cards
---
Electronic or eCode gift cards can be printed and distributed. You can order eCode gift cards through the eCodes section of the NGC Punch-out.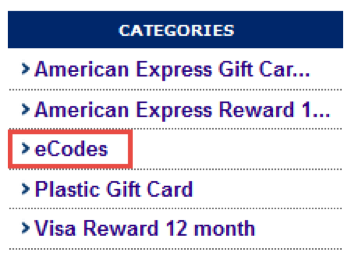 For security, eCode gift cards must be retrieved from NGC's eCode Management System (EMS).  You must have an EMS account to retrieve your eCode, which is created the first time you purchase an eCode gift card. The EMS account needs to be only created once. If you have an EMS account, please go to the "Retrieving your eCode Gift Card from EMS" section of this guide.  If you do not have an EMS account, please read the section below.
Creating and Activating an EMS Account for the First Time
If there is no EMS account for the person who placed the eCode order, NGC will email the person listed on the purchase order (eCode orders can only be sent to this person) indicating an EMS account was created. The email will be sent from [email protected] and appears similar to the one below.
Welcome to NGCecodes!
Your ngcecodes account has been created, but is not yet activated. Once you click on the link you will be prompted for a PIN. For security reasons the PIN can only be provided to you over the phone, it cannot be sent via email. Please give us a call at your earliest convenience to obtain the PIN.
Please Call: 888.472.8747.
Once you have your PIN, please click here to complete the activation process.
This link will expire in 72 hours. If you have not activated your account within 72 hours of receiving this email, please use the information below to contact National Gift Card Customer Service to obtain a new activation email and PIN.
With your new ngcecodes account you will have access to pick up your eCode orders upon completion. Please note that orders cannot be released to your account until after the activation process is complete.
You will receive email notifications with your order statuses: Posted, Pending and Ready. Once the order is complete you will receive an email which will direct you to log in to your ngcecodes account.
Please note, the PIN will be a one-time entry and is only required upon initial activation of your account, and will expire in 72 hours. If it expires before you can activate your EMS account, please let us know and the Welcome email can be resent and a new PIN created.
If you have any questions about your ngcecodes account, contact customer service.
8:30 - 5:00 pm CST
888.472.8747
[email protected]
Upon receiving the email, call NGC customer service to obtain the PIN number required for activating the EMS account. If you do not receive an email, contact NGC customer service at (888) 472-8747.
After obtaining the PIN, click on the link in the welcome email. The EMS site will open where you can provide the PIN and set up a password for your EMS account. Your order may take some time to be processed after the account is activated.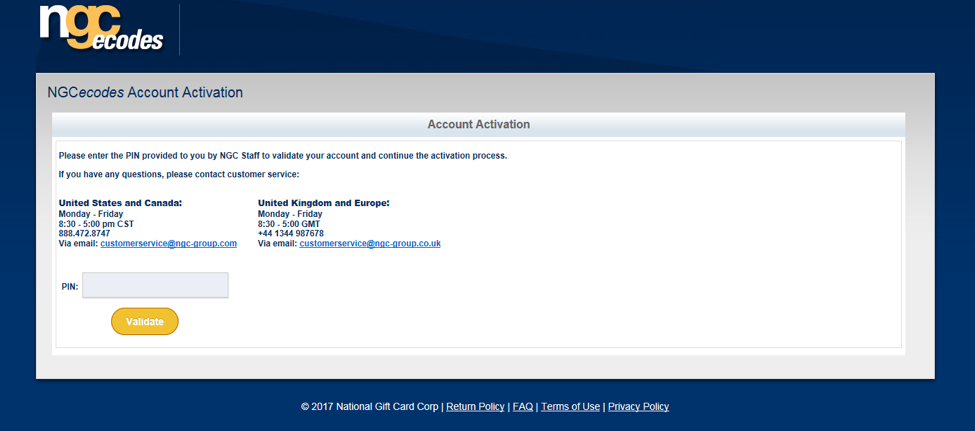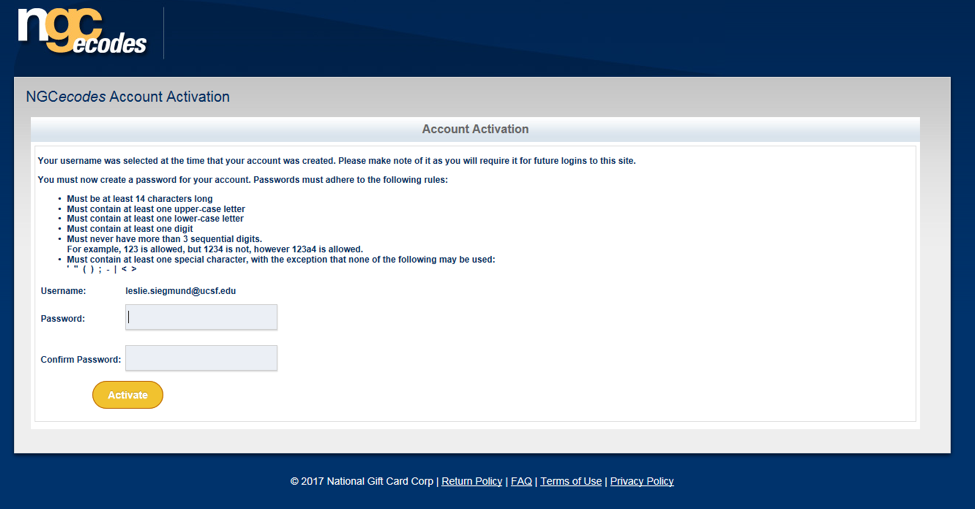 Retrieving Your eCode Gift Card From EMS
Please allow NGC time to process your order. Processing occurs after the activation of your EMS account (if this is your first eCode order) or after you placed the order if you have an existing EMS account. You will receive an e-mail when NGC begins processing your order, similar to the one below.
New ngcecodes Order 2797903 Posted.
Thank you for your ngcecodes order.
You will receive notice of the status of your order as it is being processed. Once your order is ready for download you will receive an order "Ready" email notification.
Order details can be found 24 hours a day on our website by logging into your account here.
Your order details are below:
ngcecodes order 2797903 posted: (June 14, 2017 1:57 PM CDT)
| | | |
| --- | --- | --- |
| Vendor | Denomination | Quantity |
| iTunes USA - INV | $15.00 USD | 1 |
| Total | $15.00 USD | 1 |
Once your order is processed, you will receive an "order ready" e-mail, similar to the one below. You can then login to the EMS website using your username and password, and download your order.
Your ngcecodes Order 2797903 is Ready!
Hello,
Thank you for your ngcecodes order. The following is an overview of your order details:
| | | |
| --- | --- | --- |
| Vendor | Denomination | Quantity |
| iTunes USA - INV | $15.00 USD | 1 |
| Total | $15.00 USD | 1 |
Your order has been delivered to your secure inbox and is now available for download. To access your secure inbox, using your ngcecodes username and password go to:
Once you have downloaded the file, the order will be grayed out and it will show you the download date. You can access the file at any time after you have downloaded it.
As an additional security measure, we recommend that you password protect your file once downloaded.
When you login to the website, you will be directed to your latest orders page to view your order that is ready. Find your order and download the file. Please be sure to secure the file after it has been downloaded and store it in a safe location.

If for some reason you are not directed to this page, select "orders" then "order management". You will be directed to a search page. You can search for your order using the criteria in the fields, such as your eCode order number.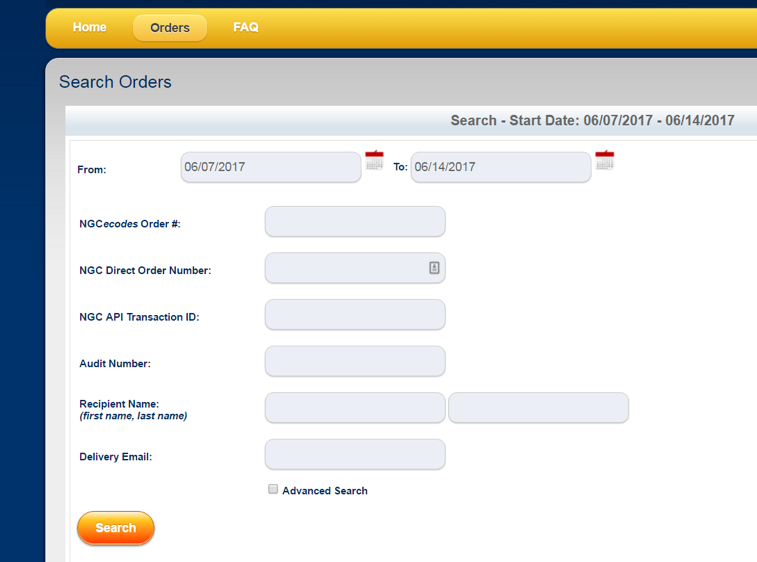 The eCode file contains several columns of information, which is explained below:
DENOMINATION: The value of the eCode  gift card
RETAILER: Merchant name
URLs: This field contains a URL with the eCode embedded in the URL. You should send the URL to the recipient of the eCode gift card. When the recipient clicks on this URL, it will open the merchant's eCode gift card. The gift card can be redeemed online or printed and redeemed at a retail location.
PIN/CHALLENGE KEY: Some merchants require a PIN or Secret Code to be entered when the end recipient clicks on the URL link to gain access to the eCode. You will send this to the end recipient (IF ONE IS PROVIDED), along with the URL.
An example of how the eCode gift card appears after clicking the URL in the file is below: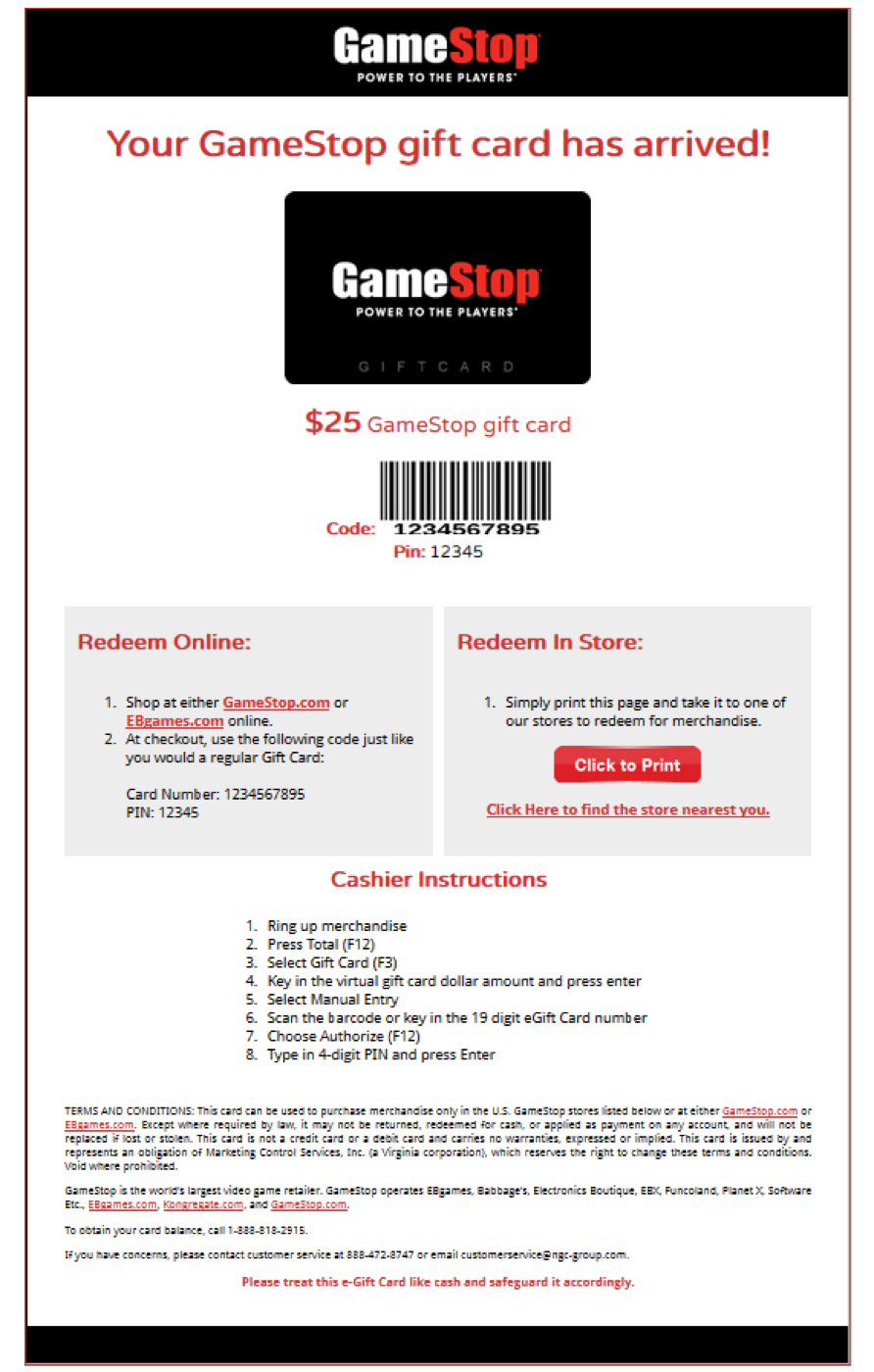 NGC Contact Information
---
NGC Customer Service
Phone: (888) 472-8747
Email: [email protected]                
NGC Representative
Nancy Knutsen
Director of Business Development
Direct Line: (779) 994-4067  
Cell Phone: (630) 901-5659